Shoppers in Rome became unexpected vigilantes at the weekend after they posted photos of an illegally parked Ferrari on Twitter, prompting social media-savvy police to quickly clamp the UAE-registered sports car.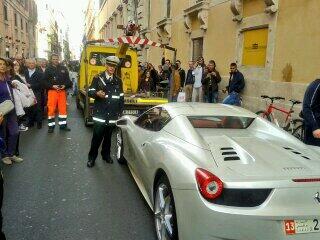 The white Ferrari 458 attracted the attention of passersby on Saturday while parked on the capital's busy Via del Corso, Corriere della Sera reported.
Car enthusiasts began posting photographs of the Italian sports car on Twitter, unexpectedly alerting the police who arrived ready to tow it away.
"

We will try to remove it, but it's a bit off the scale," traffic police chief Raffaele Clemente wrote on Twitter, posting another message saying his team was greeted with applause by shoppers.