71-year-old beat Albertini despite banana racism row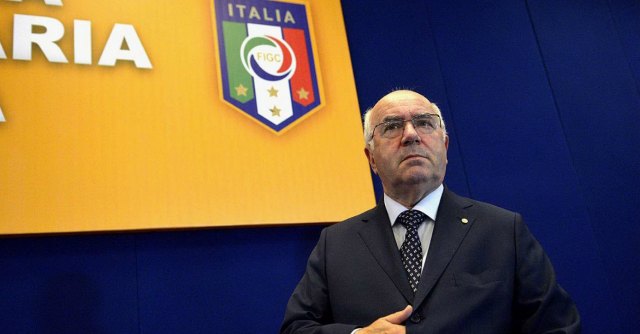 (ANSA) - Rome, August 11 - Carlo Tavecchio was elected the new president of the Italian Soccer Federation (FIGC) at an assembly in Rome on Monday despite having caused a huge racism row with his comments about "banana-eating" non-EU players. The 71-year-old prevailed in the third ballot with 63.3% of the votes. "I will be everyone's president, especially those who expressed their dissent," a tearful Tavecchio said upon hearing the news. "I will try to improve my rough and unglamorous ways, as someone once rightfully said". The head of Italy's amateur soccer leagues, Tavecchio had a majority of the votes of the FIGC delegates, despite opposition from many Serie A sides, including champions Juventus and fellow giants AS Roma.

Tavecchio sparked the racism storm last month when calling for tighter restrictions on non-EU players in Italian soccer. "In England, they identify the players coming in and, if they are professional, they are allowed to play," Tavecchio said. "Here, on the other hand, we get 'Opti Poba', who was eating bananas until recently and then suddenly becomes at starter with Lazio".

Italian soccer has a big problem with racism on the terraces, so many, including top players such as Roma and Italy midfielder Daniele De Rossi, argued Tavecchio now lacks the credibility to fight this problem. A member of Premier Matteo Renzi's centre-left Democratic Party (PD) said last week that a petition calling on Tavecchio to drop his bid has attracted over 26,000 signatures. The banana comments hit the headlines worldwide and international soccer's governing body, FIFA, called on the FIGC to investigate them. But the support of the delegates from Italy's lower and amateur leagues was unmoved by the storm.

The FIGC top job is vacant after Giancarlo Abete quit following Italy's group-stage exit from the World Cup in June If elected, one of Tavecchio's first tasks will be to find a new national team coach after Cesare Prandelli - now at the helm of Istanbul side Galatasaray - quit on the same day as Abete. Overcoming the divisions that emerged during the FIGC presidential campaign to solve Italian soccer's many deep-rooted problems - including crowd violence, poor facilities and the declining international competitiveness of its clubs - will be more difficult.