(refiling, changing statement from Lebanese spokesman, 5th graf)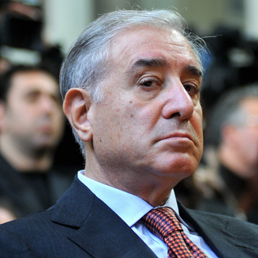 (ANSA) - Beirut, May 13 - Lebanon will rule on whether to extradite former Italian Senator Marcello Dell'Utri "shortly", the justice ministry there told ANSA on Tuesday. The longtime ally of ex-premier Silvio Berlusconi is facing extradition to Italy after his arrest last month on an Interpol warrant in Beirut for allegedly fleeing a likely conviction from the supreme court for Mafia association. When asked if his extradition could take place before the end of the week, Lebanese Justice Ministry spokesman Ahmad al Ayubi said, "nothing is stopping it, but I don't have information regarding it". Over the weekend Italian Justice Minister Andrea Orlando said it was odd that his extradition was taking so long. On Tuesday, the Lebanese spokesman responded, "Lebanon respects Italy's laws, sovereignty, and institutions. At the same time, Lebanon is a sovereign nation with its own laws, and its institutions work according to the needs and precepts of Lebanese law". Dell'Utri, who denies wrongdoing, faces seven years in prison.

He claims he was in the Lebanese capital for health treatment, and shortly after his arrest on an Interpol warrant he was hospitalized under police guard. His Lebanese lawyer said last week that he will ask prosecutors there to ignore Italy's extradition request after it allegedly violated the extradition treaty between the two countries when it requested his arrest. Dell'Utri's original conviction came when a Palermo court found that he sealed "a pact of protection" with Cosa Nostra for Berlusconi at a meeting in May 1974 - a meeting that the court said "formed the genesis of the relationship that linked the businessman (Berlusconi) and the Mafia with Dell'Utri's mediation".

Berlusconi employed a Mafia boss and killer recommended by Dell'Utri, the late Vittorio Mangano, as an alleged stable manager in the mid 1970s - but allegedly to protect his children from kidnappings that were then rampant in Italy. Dell'Utri is also the former head of the media magnate's advertising arm and is credited with creating the three-time premier's centre-right party, Forza Italia, in 1993, six months before it swept to victory in general elections. According to prosecutors, Dell'Utri had been considering since last fall where to flee if he lost his case in the Court of Cassation.

They say authorities intercepted a conversation involving Dell'Utri's brother Alberto in a Rome restaurant discussing passports and safe havens for his brother, including Lebanon where he said Marcello Dell'Utri allegedly had connections. "You have to have people in place who give you a hand, help you...so you do not have to go there and not know anyone...but these (matters) are well settled," Alberto Dell'Utri reportedly said. His extradition must ultimately be approved by the prime minister and president of Lebanon.